Hello &
Servus from Ehrwald!
Holiday in a lodge nestled in the Tyrolean mountains at 1,000m altitude: We are offering you a home-away-from-home to relax and unwind for this special time of the year.
Sometimes everyday life moves a little too fast, not leaving enough quality time to spend with family and friends. In the Ehrwalder Zugspitz Lodge there is room for everyone to enjoy, and the Tyrolean Zugspitz Arena offers an abundance of fun activities in the fresh mountain air. Enjoy your holiday with us, right at the foot of the Zugspitze mountain, surrounded by the rustic Tyrolean ambience of our lodge and real Tyrolean joie de vivre, combined with an even greater luxury: your valuable time.
Escape the stress of everyday life and take time for you and your partner to cozy up by the fire place and the many other comforts our 69m2 lodges offer. Or plan a reunion with friends and family you haven't seen for a long time. There is plenty of space in our 83m2 family loges for your special occasion and traditions.
PURE RELAXATION
Book our sauna and steam bath exclusively for up to two hours a day free of charge.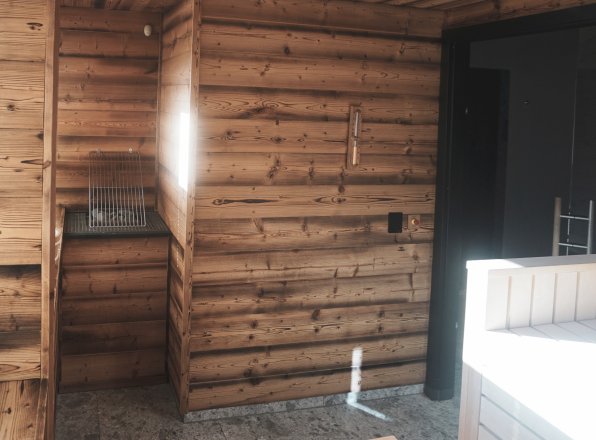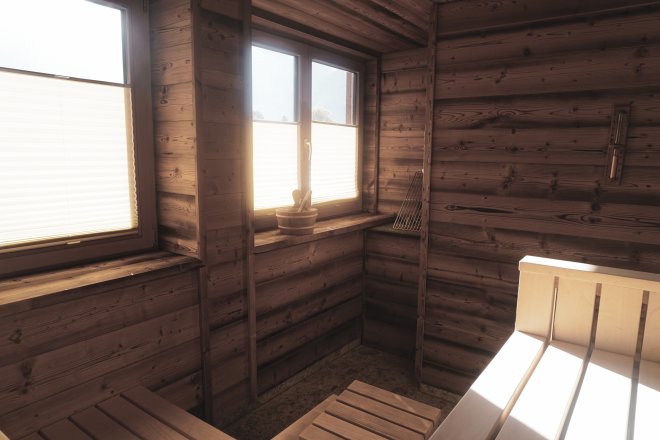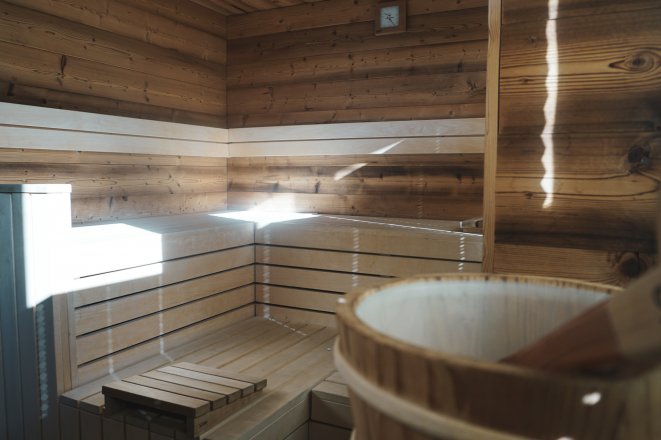 Fireplace & sauna
Enjoy cosy hours with your partner or family around the fireplace. Or perhaps reserve some time in our sauna and steam room located in the reception building, free of charge for up to 2 hours per day.
Carport
Covered parking spaces are at your disposal during your stay.
Fully equipped kitchen
In our top modern kitchens you will find all necessary kitchen utensils and appliances: A stove, microwave, dishwasher, Nespresso coffee maker.
Travel by train
Only 500 meters from the Zugspitz Lodge is the Ehrwald train station with direct connections to Munich and Innsbruck.
Are dogs allowed in the lodges?
We warmly welcome our four-legged guests as well in Zugspitz Lodge. A surcharge will be added to your booking to the amount of € 15,- per pet per night.
Is there wifi in the lodges?
Yes, we offer our guests complimentary wifi.
At what time can we arrive at the Zugspitz Lodge?
The lodges are available for arriving guests at 15:00 on the check-in day.
At what time do we have to leave the Zugspitz Lodge?
The lodges are available for arriving guests at 15:00 on the check-in day.
What is your cancellation policy?
If you cancel your reservation at 3 months, or more, in advance the cancellation fee is 30% of your booking.
Between 1 and 3 months in advance the cancellation fee is 80% of your booking
Are you allowed to smoke in Zugspitz Lodge?
No, smoking is not permitted in the lodges.
Is there available parking by Zugspitz Lodge?
Yes, every lodge has a complimentary parking space next to it. 
Are the lodges wheelchair accessible?
No, unfortunately the lodges are not wheelchair accessible. 
Do you provide baby beds in the lodges?
Yes, please indicate in your booking if you require one, and we will ensure that this is provided for you in the lodge when your arrive.
Are bed linen and towels provided?
Yes, one shower towel and one bath towel is provided per person. There are no extra towels available in the sauna. We provide bed linen once per stay.
I have lost the access code for our lodge, what do I do now?
The access code will be sent to you two days before arrival. If you still cannot find it, please let us know and we will be happy to send you an SMS or an email with the code.
What is the general basic equipment in the lodge?
Both lodge types are have fully-equipped kitchens (this includes a stove/oven, refrigerator, dishwasher, Nespresso machine), open fireplace, separate room for skiing equipment, bathroom / toi
Are there any shops nearby?
Yes, there are two supermarkets in Ehrwald (Spar, MPreis).
What are the payment terms like?
The total price will be debited from the credit card listed with the booking.
There are no other payment options.
Are there sauna facilities?
Yes, you are welcome to use our sauna (Finnish style at up to 90 degrees Celsius, and a steam room) free of charge for up to 2 hours per day. Reserve your time slot at reception.
Contact
For questions regarding check-in, lodge access, reservations and other concerns, please contact us via email.
info@zugspitzlodge.com
+43 5673 2424 1000
Schmiede 19 | 6632 Ehrwald | Austria